Bastet Black Cat with Gold Necklace Statue Cats were sacred to Bastet, a sun goddess who represents the warm, life giving power of the sun.
Product Code: YT-8451
Average Delivery: 2 - 8 Days within USA*

FREE SHIPPING on orders over $75 in the US.

Under $75 or outside the US, shipping costs are based on weight of items ordered - average is $3.00-$6.50 in the US. To see shipping costs, add this item to your cart, view the cart and select "See Shipping Costs"
---
Bastet Black Cat with Gold Necklace Statue by Summit Collection Museum Replicas
Bastet was known as the goddess of joy and protector of women. Black cold cast resin statue of Bast has gold collar necklace and hand painted detail.
She measures 8 1/2 inches high with stunning detail and heiroglyphic accented base.
Item Number:
YT-8451 |
Approximate Size (Inches):
4.50 wide x 2.75 deep x 8.50 high |
Approximate Shipping Weight:
2.50 lbs.
Recommended accessories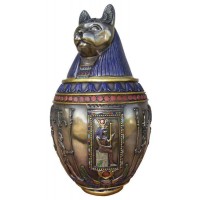 The jars were four in number, each charged with the safekeeping of particul..
$69.00
---
Availability & Delivery
Availability:
Inventory is updated regularly and will be shown above with any sizes/colors/items out of stock indicated. Not all manufacturers provide inventory data and even in stock items can be sold out without notice. Items not shown out of stock are normally available. We will notify you of any out of stock items as soon as possible or you can contact us in advance of placing your order to verify availability.
*Average Delivery:
The average delivery time for delivery within the United States via Standard or Free Shipping. Deliveries outside the US will on average take an additional 10-15 days based on destination country and customs both in the US and at the destination. International deliveries may have additional import duties, taxes, or fees imposed before delivery that we cannot charge or estimate - contact your local customs office for information.

Note: This is the average, estimated time for delivery and is subject to availability, seasonal sales volume, and other potential, unforeseen delays. If you must have an item by a specific date, be sure to include that date in your cart comments when checking out.
Materials
Cold Cast Resin
Resin is a polymer which can be used for making molds as well as cast in molds. Cold-cast resin is generally for sculpture and means that the resin material is cast without the need for the extreme heat of a foundry. It holds very sharp detail when cast. Most of the major lines of figurines on the market today are made of cold cast resin. It is fragile if dropped and fractures similar to glass, usually in clean pieces which can be glued using a household super glue.
Country of Origin
Origin
Made in China